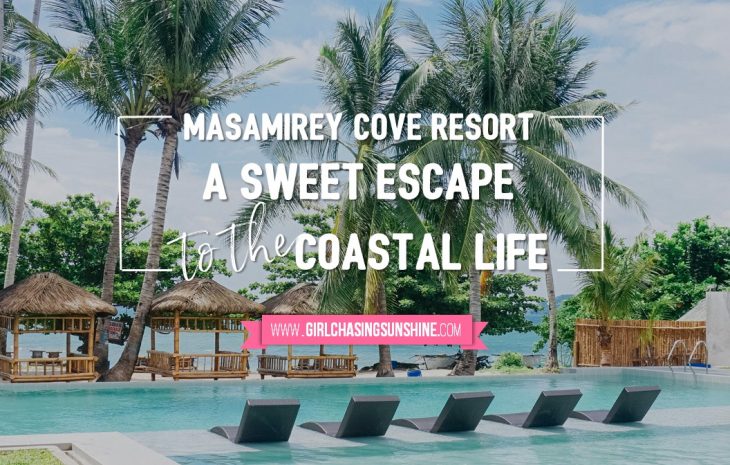 Yearning to punctuate the summer with an idyllic retreat, I, together with my boyfriend, set out on a trip to a sleepy town up north during the Independence Day long weekend. It wasn't an easy journey, considering that it was just a 5-6 hour commute from Manila, but the paradise that we found waiting for us at the farthest end of Pangasinan made it all worth it.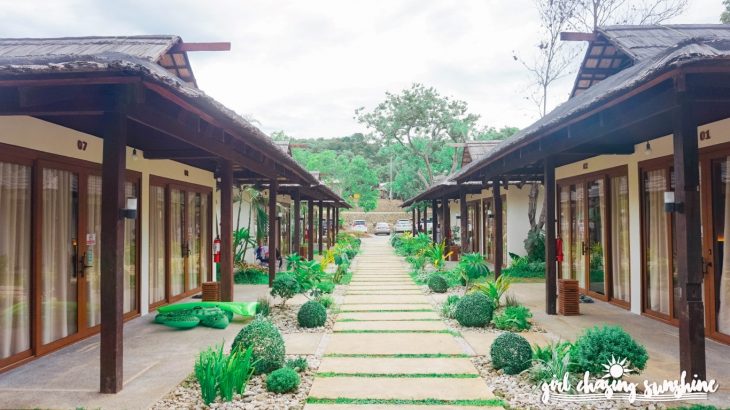 Defined by cozy yet spacious tropical villas inspired by Asian architecture, this newly-opened resort is perfect for serene staycations. There's a mid-sized infinity pool overlooking the cerulean sea; the sprawling lawn is inundated with native cabanas for guests to enjoy quiet moments by the beach. It's a sanctuary waiting to be discovered. A sweet escape. This is Masamirey Cove Resort.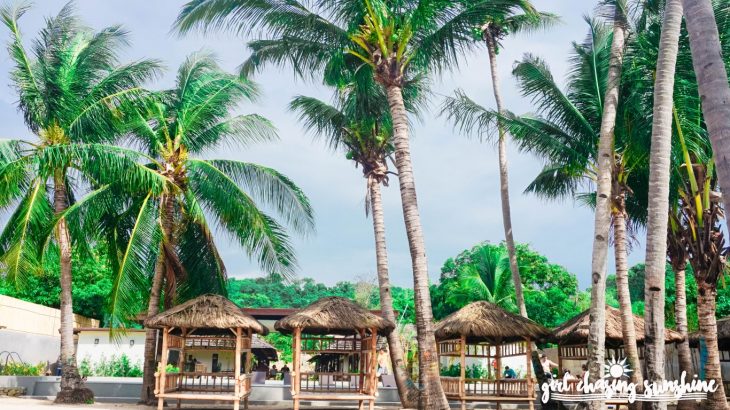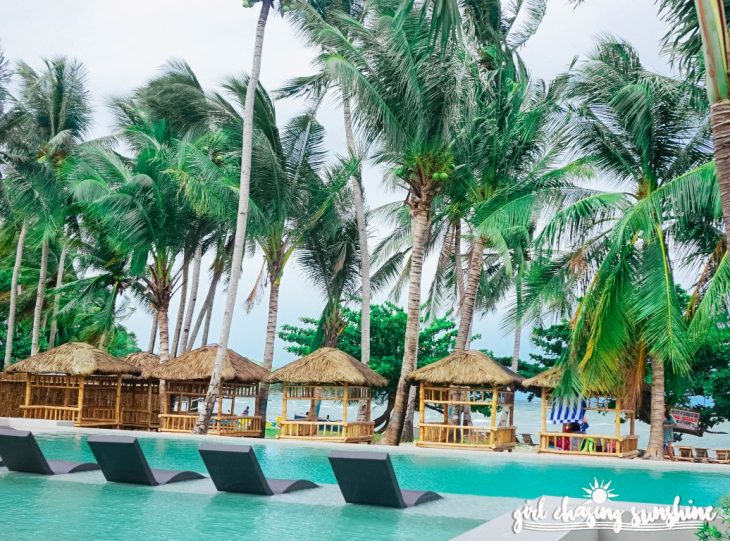 THE LOCATION
Situated in a peaceful fishing village away from the prying eyes and exploits of tourists, Masamirey Cove oozes understated luxury.
And for you to experience that luxury, you have to brave through the narrow yet paved roads of the sitios in Sual, a first-class municipality in Pangasinan  next to Alaminos town, the home of the famous Hundred Islands.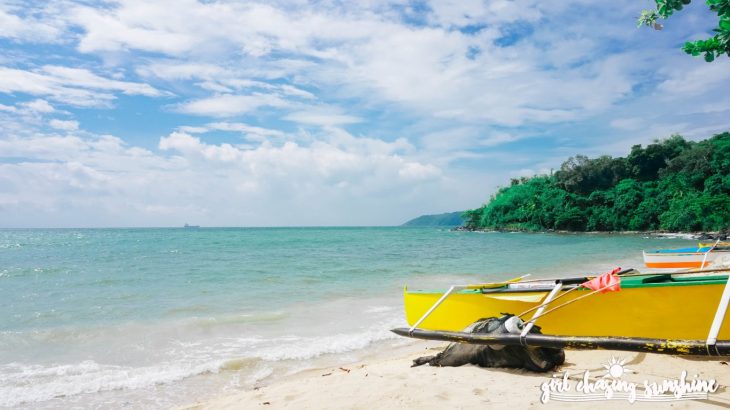 The resort, which is owned by Sual's town mayor, is located quite far from the town center. It's in Masamerey Beach, (take note of the spelling; Masamerey is what the public beach is called while Masamirey is the name of the resort) in Brgy. Baybay Norte.
While I was a bit dismayed at the distance at first, between the fresh probinsya feels breeze and the rice plantation views along the way, it quickly faded from my mind.
KINDNESS ALONG THE ROAD  
That was until the tricycle we were riding had a flat tire. We were literally halfway through our destination, in the middle of nowhere, when this happened. There were no other means of transportation in sight and the heat of the sun was sweltering, I could feel my tinted moisturizer drooping from my face.
When we found another tricycle after a 300-meter walk, the driver did not budge. He said his tires were not ready for the uphill ride going to Masamerey.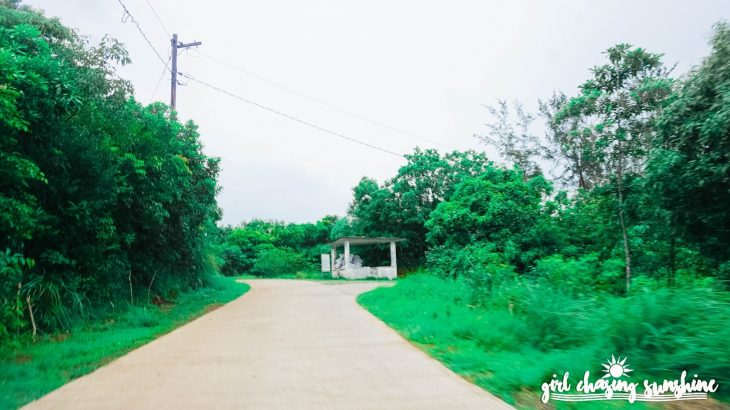 While we were begging for him to take us to Masamerey, another motorcycle zoomed through the street. It was a Masamerey local on his way back to their village from Alaminos town. Luckily for us, he was kind enough to stop and offer a free ride going to the resort.
This is what I love about going to places—it restores your faith to the kindness of humanity.
"This trip is off to a good start after all," I told myself.
THE ROOMS  
The sun was replaced by dark skies and a light drizzle when we finally reached our destination but I was immediately impressed upon arriving at the resort. While it has only opened its doors to guests last May 20, 2017, everything seemed to be polished already—from the welcome service at the reception to the well-manicured pathway leading to the villas.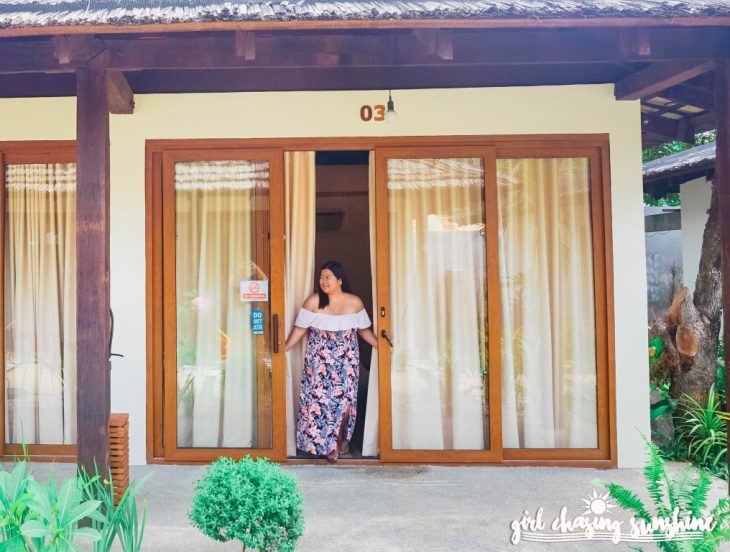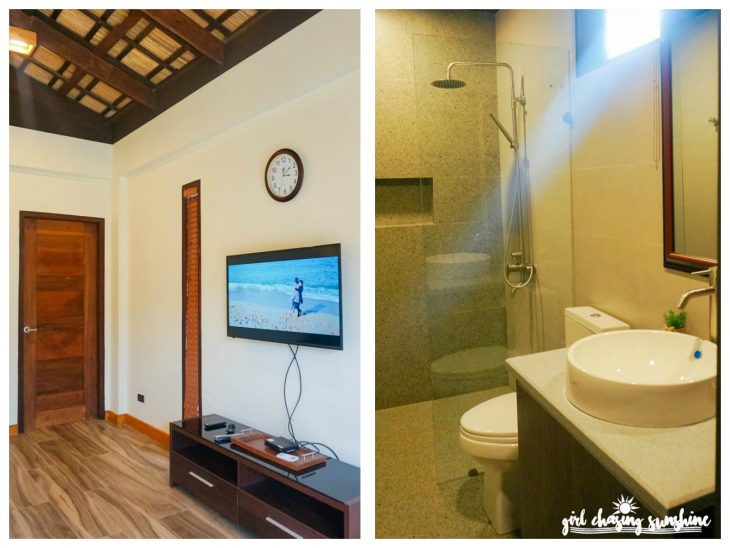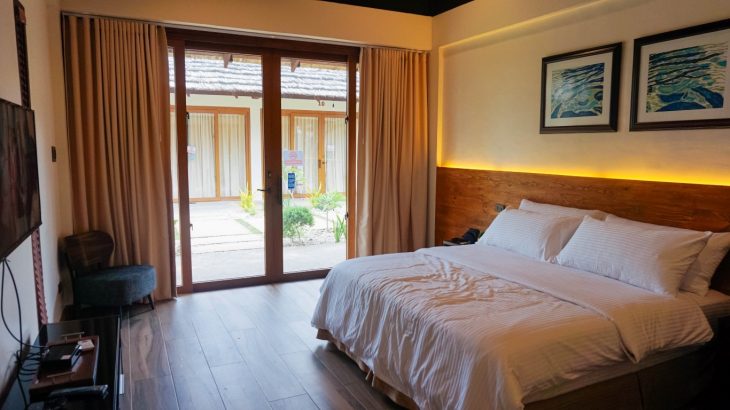 There are a total of 11 villas and only two room categories at the resort—a master bedroom (Php 4,800 with breakfast) ideal for two persons and a family room good for four persons (Php6,500 with breakfast). The Balinese-inspired villas are meticulously designed, creating a cozy vibe ideal for resting and recharging.  Aside from the queen-sized bed, our room also had a day bed and a lounge chair.
What I love most about our room are the sliding glass doors and windows, which allow natural light to come in. It's as if the whole place is harmoniously integrated with nature and with the sleepy fishing village where it is located.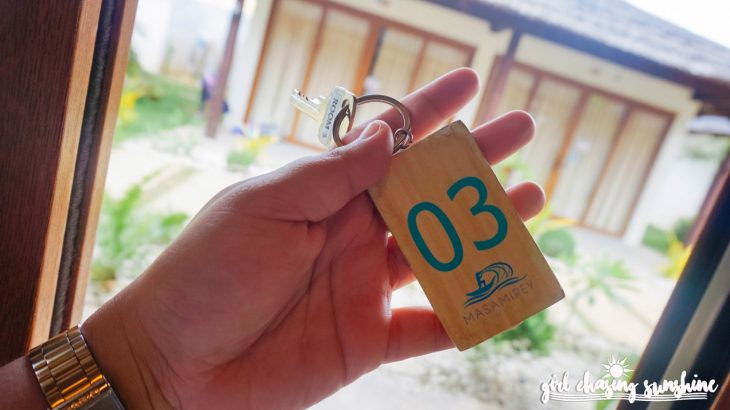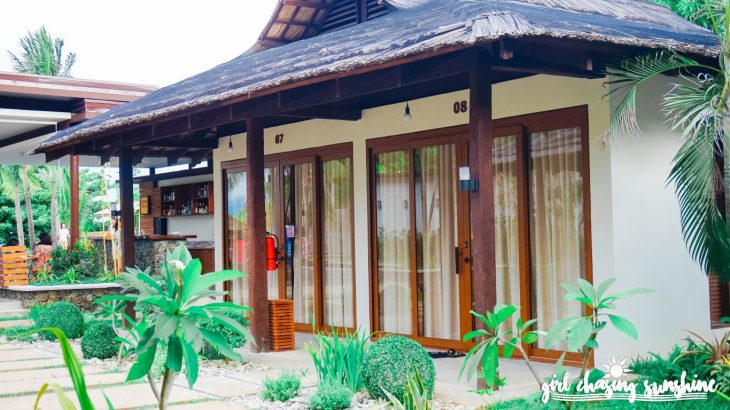 THE FOOD
The resort has an in-house restaurant, the Pana Pana Bar and Restaurant, which serves mostly Filipino and continental dishes. Deliciously-concocted drinks and liquors are also available. While we enjoyed our lunch and dinner, consisting of sisig, bulalo, pansit bihon, tanigue steak, and baked oysters, the breakfast was a disappointment.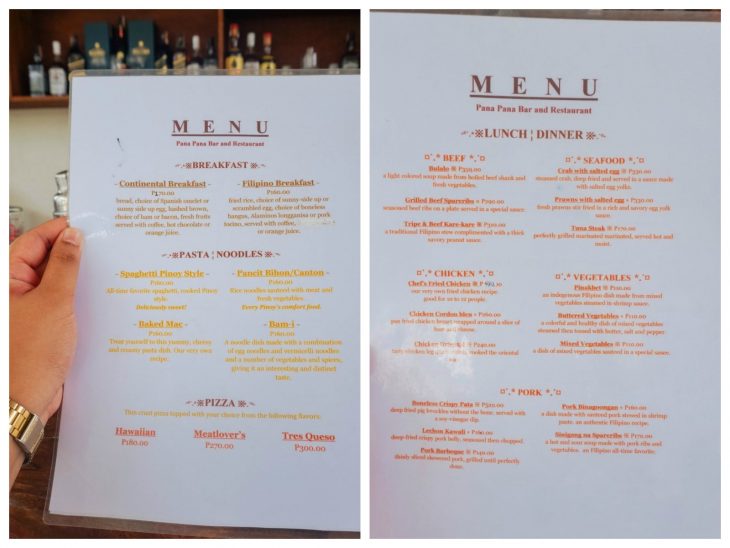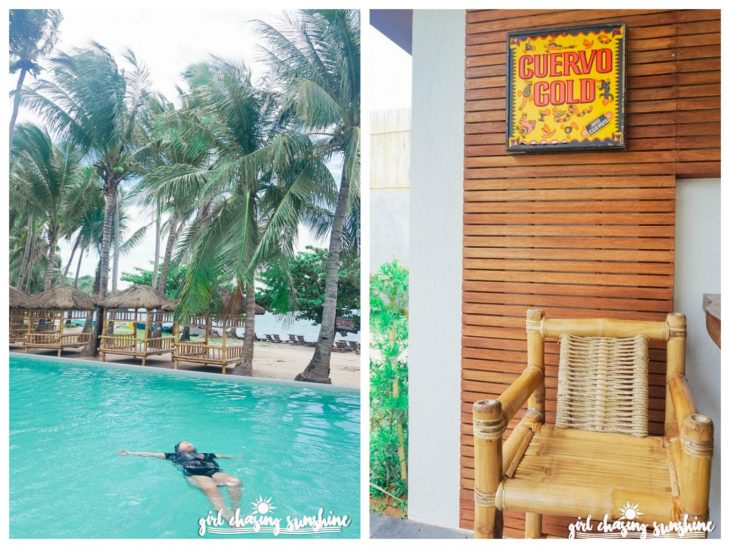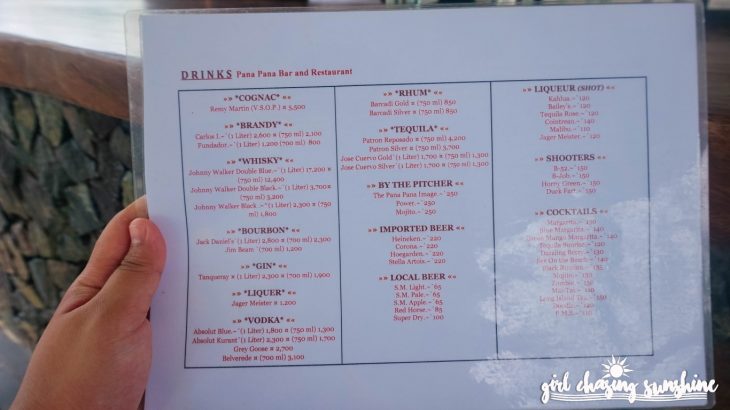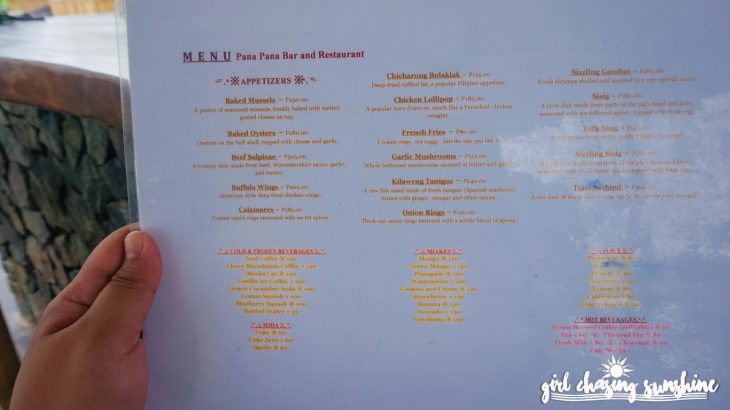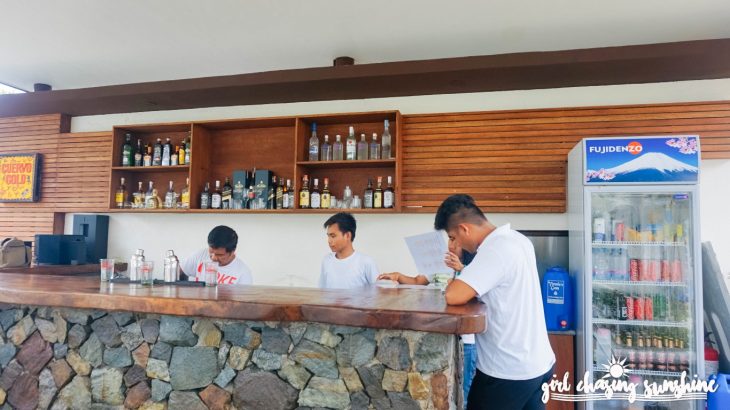 We were told we can choose between a continental and a Filipino breakfast. Both offers quite a selection on paper but apparently, not much was available that day. Instead of the delectable spread that was promised on the menu, we were served with only a piece of hotdog, a piece of ham, fried rice, fried egg, and a cup of coffee.
So, sadly, no, I can't rave about the breakfast spread in Masamirey Cove Resort, which was a major bummer because we pretty much had no other options.
Fortunately, there was a lot more to get excited about this newly-discovered gem, starting with the friendly and warm service of its locally-hired staff. Every one had a ready smile on their faces and were willing to assist us every step of the way, for instance, during all the times we failed to lock and unlock our villa. During our whole stay, I really felt the utmost sincerity of the staff to go above and beyond for us. Much appreciated! 🙂
THE INFINITY POOL
The undisputed highlight of Masamirey Cove Resort is its gorgeous infinity pool, which offers an arresting view of Masamerey Beach.
The side of the pool which is nearest to the dining area are for kids while the one facing the shore measures five feet. Safety is guaranteed as a life guard is always stationed by the poolside.
There are sun beds and cabanas by the pool, perfect for enjoying the sunrise or the sunset, napping with the sea breeze, or just watching the simple coastal life ever slowly go by.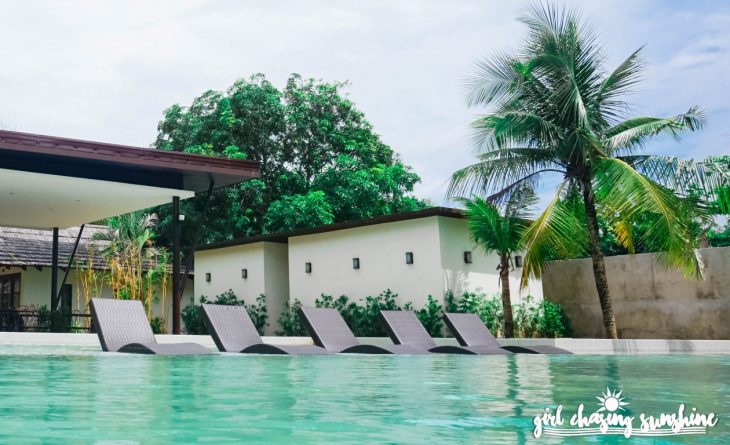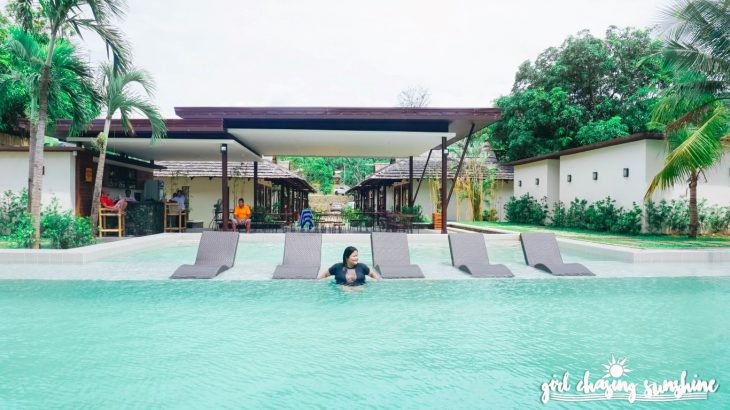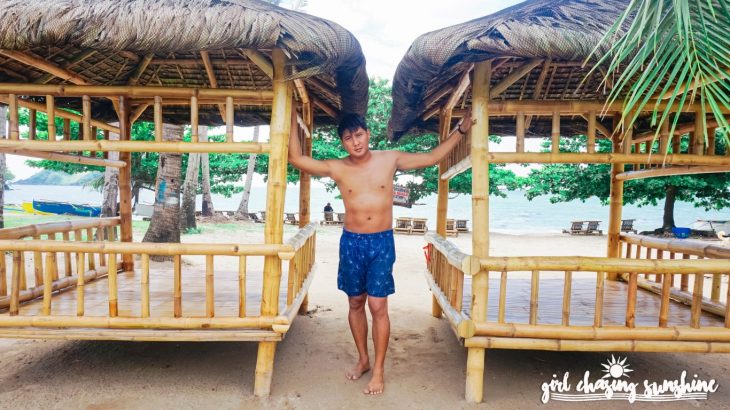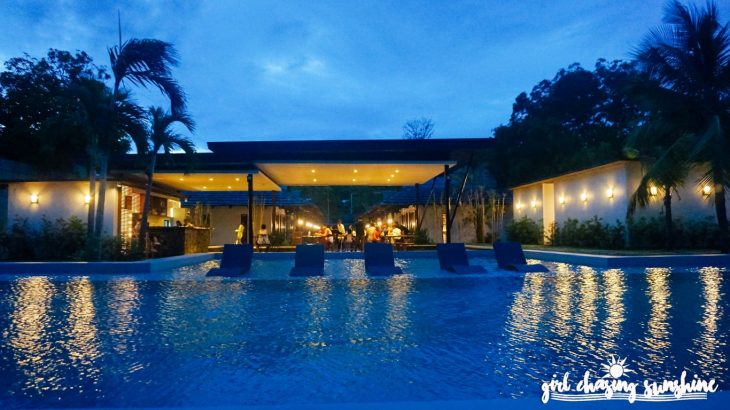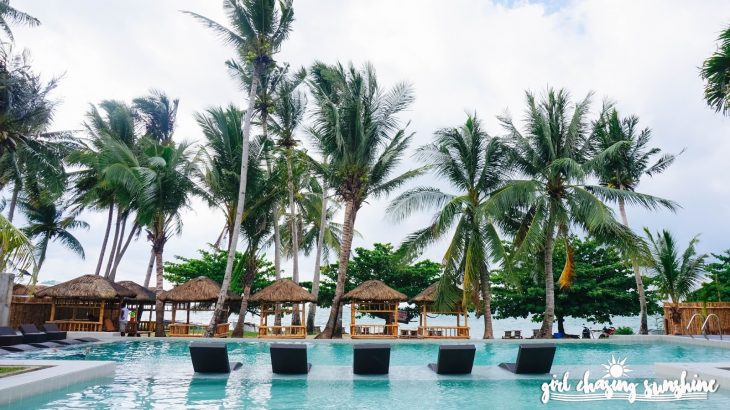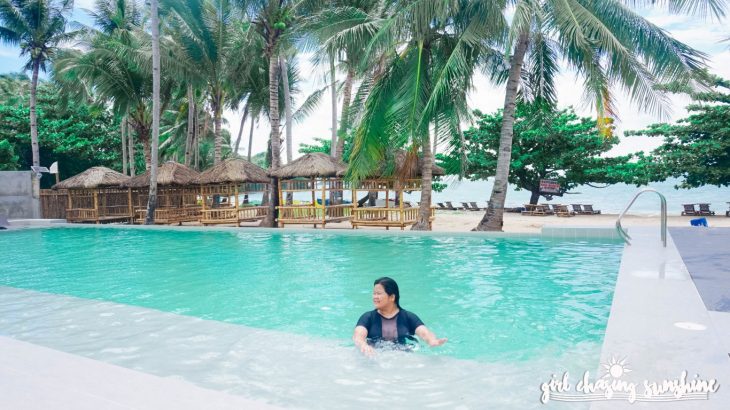 I fell so hard in love with this infinity pool, where we spent most of our time lounging and taking in the view of coconut fronds swaying in front of blue skies and the seafoam water. It was just pure magic.
THE BEACH COVE
If the resort's infinity pool made me feel magical, walking by the shore and exploring the coastal village put me in trance.
I grew up in a coastal sitio myself and seeing the simple yet colourful fishing boats that line the harbor and the managsigays or fishermen of Masamerey with their freshest catch made me feel at home.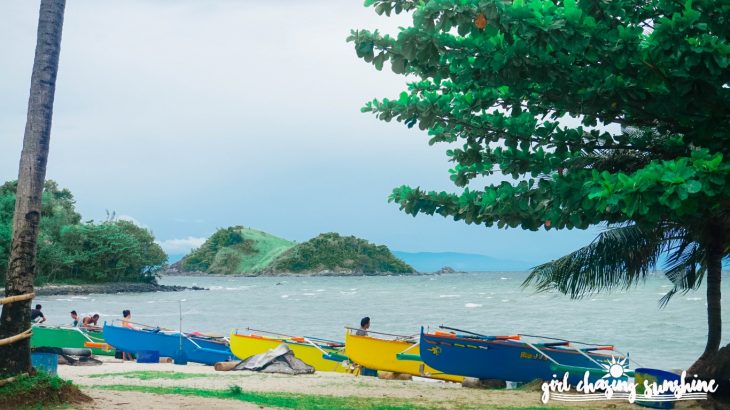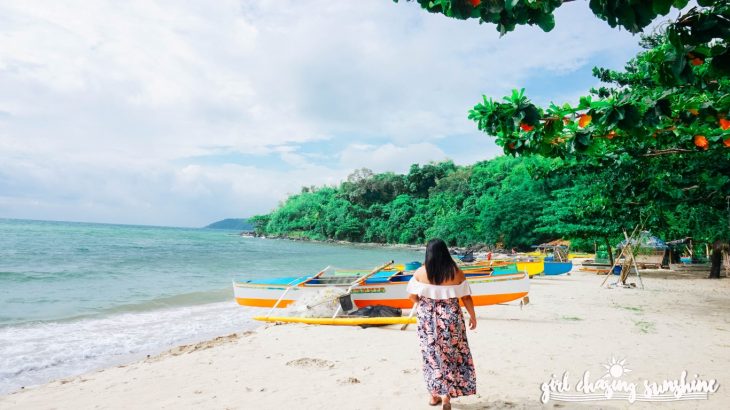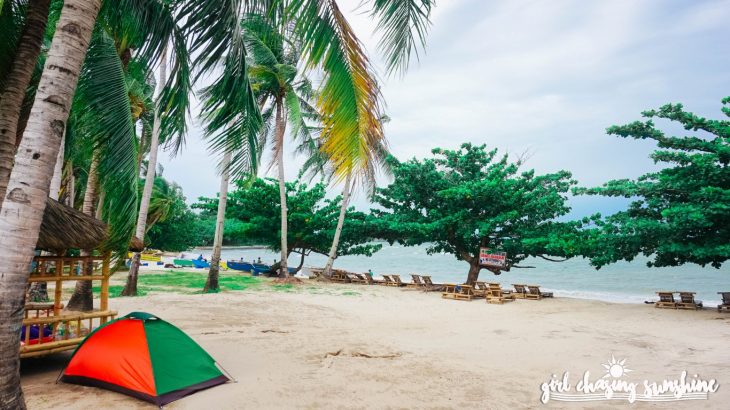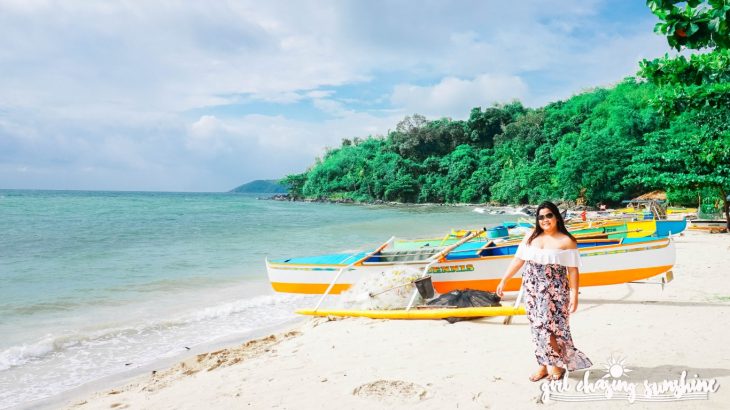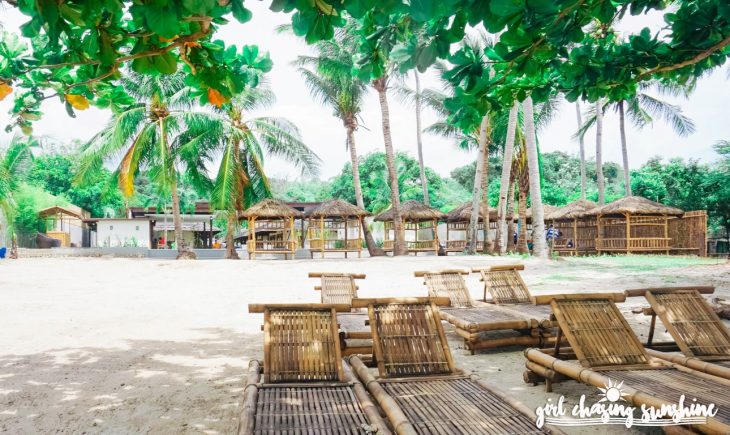 Staying at Masamirey Cove Resort is like having an ecological and cultural immersion—guests are encouraged to mingle with the friendly local fishing community and even indulge in coastline fishing with the managsigays.
Though it was raining when we arrived, the sky cleared enough the next day for a beautiful sunny day, allowing us to bask in the beauty of the powdery cream sand and the clear beryl sea.
We easily circumnavigated the secret beach cove in around two hours. If not for our few stops to take photos, we could've finished in around 30 minutes or so.
Take note, it was a long weekend but the crowd was nowhere to be seen. There were a few tourists (in fact, the resort was almost fully booked) but not enough to disrupt the tranquility of the place.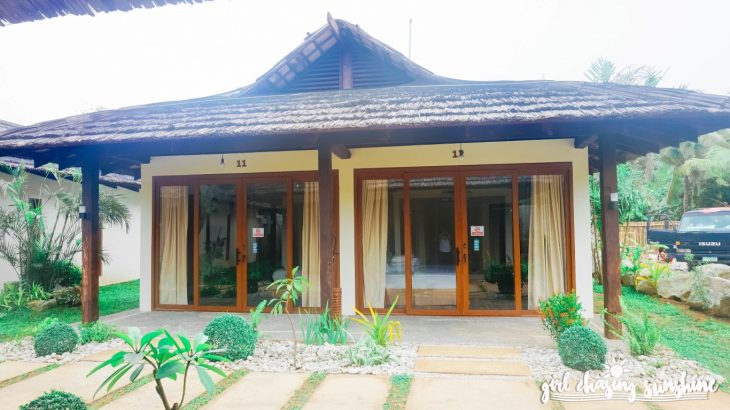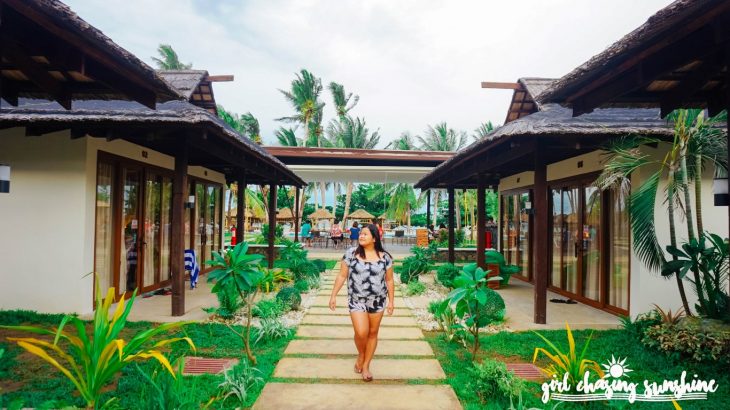 Before we were ready to say our farewell, it was time to leave the tropical paradise that is Masamirey Cove Resort. It was definitely a charming ending to an almost impeccable summer.
While we experienced mishaps and a few bumps, overall, I know it in my heart that Masamirey Cove Resort is worth coming back to.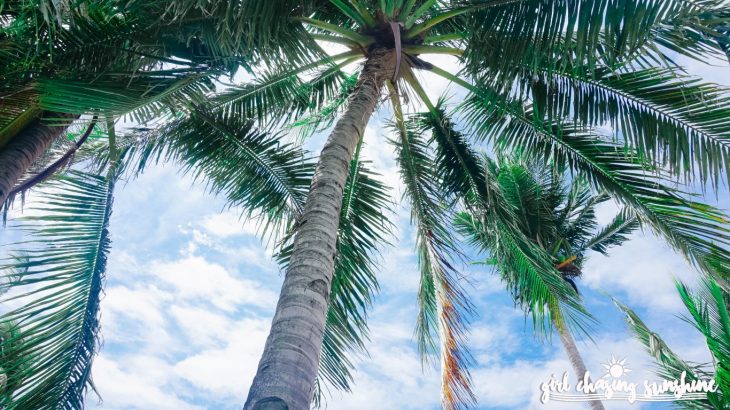 HOW TO BOOK YOUR STAY AT MASAMIREY COVE
Not many people are aware yet that such a charming cove exists in Pangasinan. My advice? Go here before the crowd does!
Currently, Masamirey Cove is the only resort in the area. You can book it through Airbnb. Not yet signed up on Airbnb? Here's Php1,100 credits for you to get started on the platform! Sign up through this link to start booking.
Masamirey Cove Resort
Masamerey, Baybay Norte, Sual Pangasinan
Contact Number: +63 (917) 136 5931
Book Here: https://www.airbnb.com/rooms/18878340
Facebook Page: https://facebook.com/masamireycoveresort
Website: www.masamireycove.com
RATES & OTHER THINGS TO NOTE
Master Bedroom (good for 2 pax): Php4, 800/night with breakfast
Family Bedroom (good for 4 pax): Php6, 500/night with breakfast
Daytrip: Php385 per adult and Php280 per child
Cabana (good for 3-5 pax): Php500 for day use only
Check-in is at 2:00 PM and check-out is 12:00 PM the next day
Swimming pool use is from 8:00 AM to 10:00 PM
Breakfast is from 7:00 AM to 10:00 AM
Parking is available
Wi-Fi is available at the reception only
Smart signal is weak
They charge a corkage fee for food brought from outside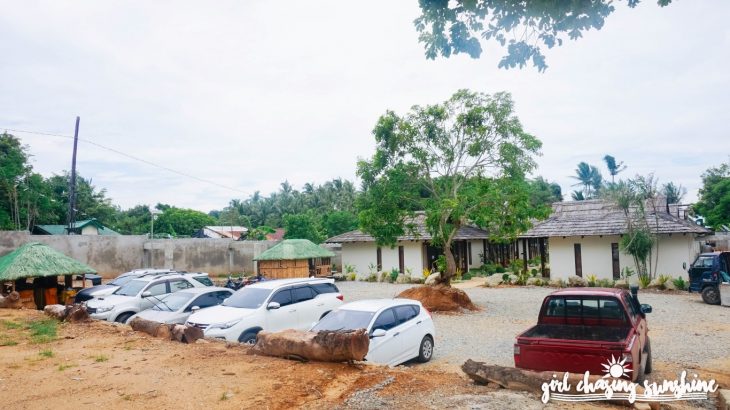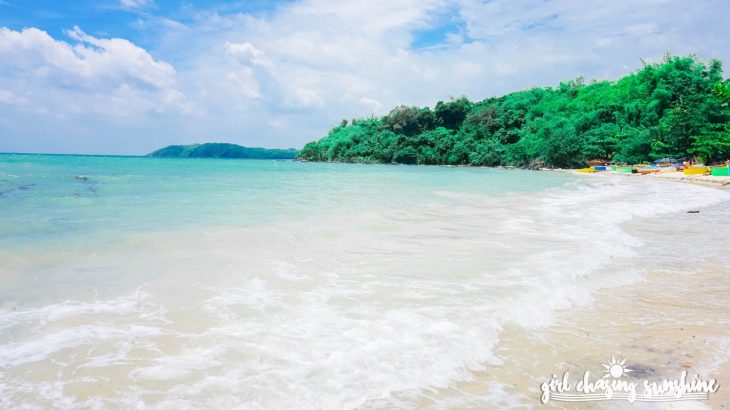 HOW TO GET TO MASAMIREY COVE VIA COMMUTE
(if using your personal vehicle, just follow Waze)
OPTION 1
From Manila, ride a bus going to Alaminos, Pangasinan. I recommend Victory Liner, Five Star, or Dagupan Bus. Co (DURATION: 5-6 hours | FARE: Php 370 – 390 per way, depending on the bus liner)
Get off at the bus terminal in Alaminos. From Alaminos, ride a tricycle going to Masamirey Cove Resort (DURATION: 20-30 minutes | FARE: around Php 250-350, negotiable)
OPTION 2:
From Manila, ride a bus going to Alaminos, Pangasinan. I recommend Victory Liner, Five Star, or Dagupan Bus. Co. (DURATION: 5-6 hours | FARE: Php 370 – 390 per way, depending on the bus liner)
Tell the conductor to drop you off at Brgy. Caoayan crossing going to Sual Power Plant.
From Brgy. Caoayan crossing, ride a tricycle going to Masamirey Cove Resort (DURATION: 35-45 minutes | FARE: around Php 200-300, negotiable)
OPTION 3:
Don't want the hassle of commute and planning every detail? Join a daytrip to Masamirey Beach Cove organized by Leave No Trace Travel and Tours.
Contact Number: 09994377702
Facebook Page: https://facebook.com/Leave-No-Trace-Travel-and-Tours-144343507262454
Source: http://www.girlchasingsunshine.com/2017/06/masamirey-cove-resort-pangasinan.html