So this trip wasn't planned at all. It was one day before my friend, Clarise's birthday when we decided that we are going on a trip to Pangasinan. Clarise's brother, Rhenzo discovered this resort through a facebook post and we fell inlove. We discussed things in our group chat then came up with the conclusion that we'll actually travel there to celebrate her special day. So he booked a reservation for the three of us in Masamirey White Sand Beach located in Baybay Norte, Sual, Pangasinan.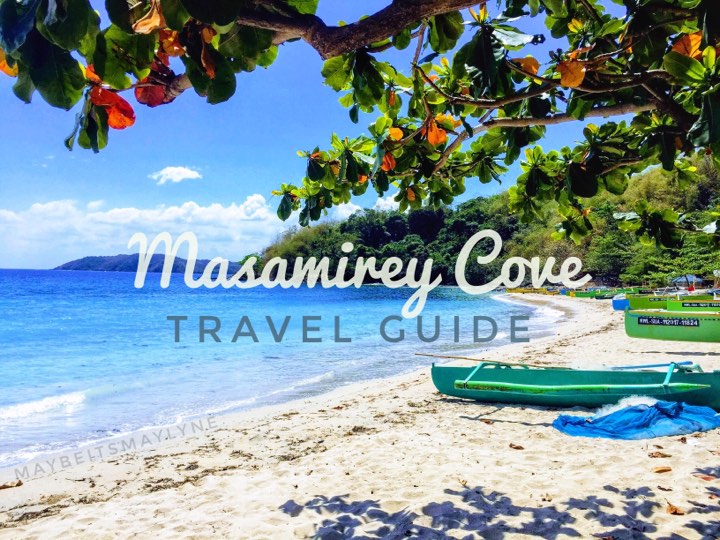 About this Resort
Masamirey Cove Resort is an ideal place to be for a much needed escape in the city. I totally recommend everyone to visit this place to be captivated. It holds white sand beaches, clear blue waters, an infinity swimming pool, asian-inspired villas, wonderful cabanas and cozy private rooms. They also have a bar and grill restaurant. We stayed there for only 2 days and 1 night yet we had the best stay ever! The people there were very accommodating and friendly, from the receptionist to the life guards, resort staff and even the driver. If you are looking for a beach that's not jam-packed but with beautiful accomodation, this is the perfect place for you.
Note: It is best to check their website first and book a reservation before actually visiting the resort. Bringing small snacks and drinks is allowed but bringing large amount of food may be subject to a corkage fee of PHP 150.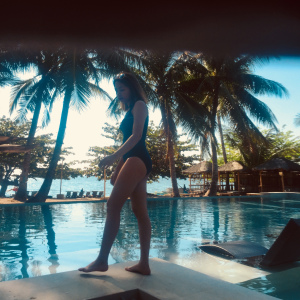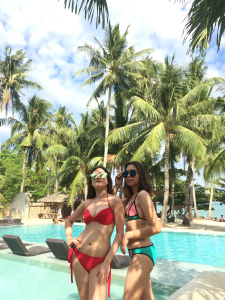 How to Get to Masamirey Cove Resort
1. From the Victory Liner terminal near Cubao, ride a bus bound to Alaminos, Pangasinan. (Trip fare: 393/head)
2. Alight at the bus terminal in Alaminos and take a tricycle bound to Masamirey Cove Resort. Travel time will take up to 45 mins. (Trip fare: 100/head)
NOTE: Another option is to go to bayan ng Sual, Batangas if you already confirmed a reservation, you can inform the resort about your location so that they can give you FREE SHUTTLE RIDE going to the resort.
Room Rates in Masamirey Cove Resort
• Master Room – this room has one king-size bed, PHP 4,800 per night good for 2 persons with breakfast. (Maximum of 4 persons)
• Family Room– this room has two twin beds, PHP 6,500 per night good for 4 persons with breakfast. (Maximum of 5 persons)
Note: Extra person charge is PHP 1,000.00 per head with mattress and breakfast. Children below 3 years old are free of charge.
• Cabana – a kubo-style located near the beach recommended for those day tour visitors, PHP 1000 good for 5-10 persons. (Day tour rate is PHP 380 per head)
Things to Do in Masamirey Cove Resort
• Swim and Beach Bum – this place is ideal for taking cool photos because of the delightful facilities plus the white sand beach which isn't crowded at all, what more can you ask for? You can also enjoy their infinity pool facing the beachfront, what a perfect view.
• Dining and Drinking– as I mentioned earlier, they have their own bar and resto where you can order good food and drinks, both alcoholic and non-alcoholic. (Price ranges from PHP 150 to 500. Example: A fully loaded breakfast meal with a juice or coffee costs PHP 150 only)
• Kayak and Paddleboard – I recommend you to try clear kayak, you'll surely enjoy it. (Kayak/Paddleboard rental: PHP 400/one hour, 700/two hours, 1000/three hours)
• Hundred Islands Boat Tour – you can rent a private boat for island-hopping. As far as I can remember, it can take you up to 5 different islands. (Boat rental: 1800 from 8AM to 2PM)
• Sual Boat Tour – you can rent a private boat for a special day tour to the Sual Power Plant (largest coal-powered plant in the Philippines), Cabalitian Island and Matico Waterfalls. (Boat rental: PHP 1800)
• Fishing and Snorkelling – you can ask the resort to arrange these activities for you if you want to learn how to fish with the locals or experience snorkelling in one of the diving spots there.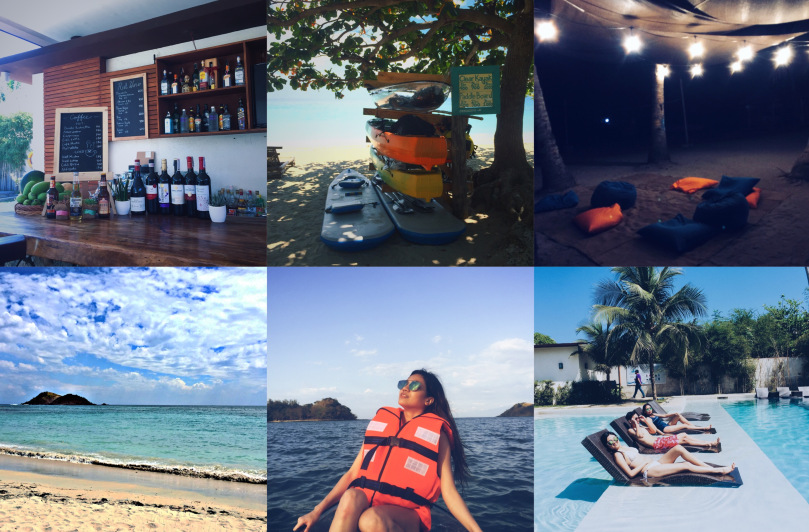 For inquiries, call +639171365931 or visit Masamirey Cove Resort's website.